WHAT ARE THE BENEFITS AND RISKS OF EATING PICKLES DURING PREGNANCY? BY STAR OF BABY
Jan 31,2023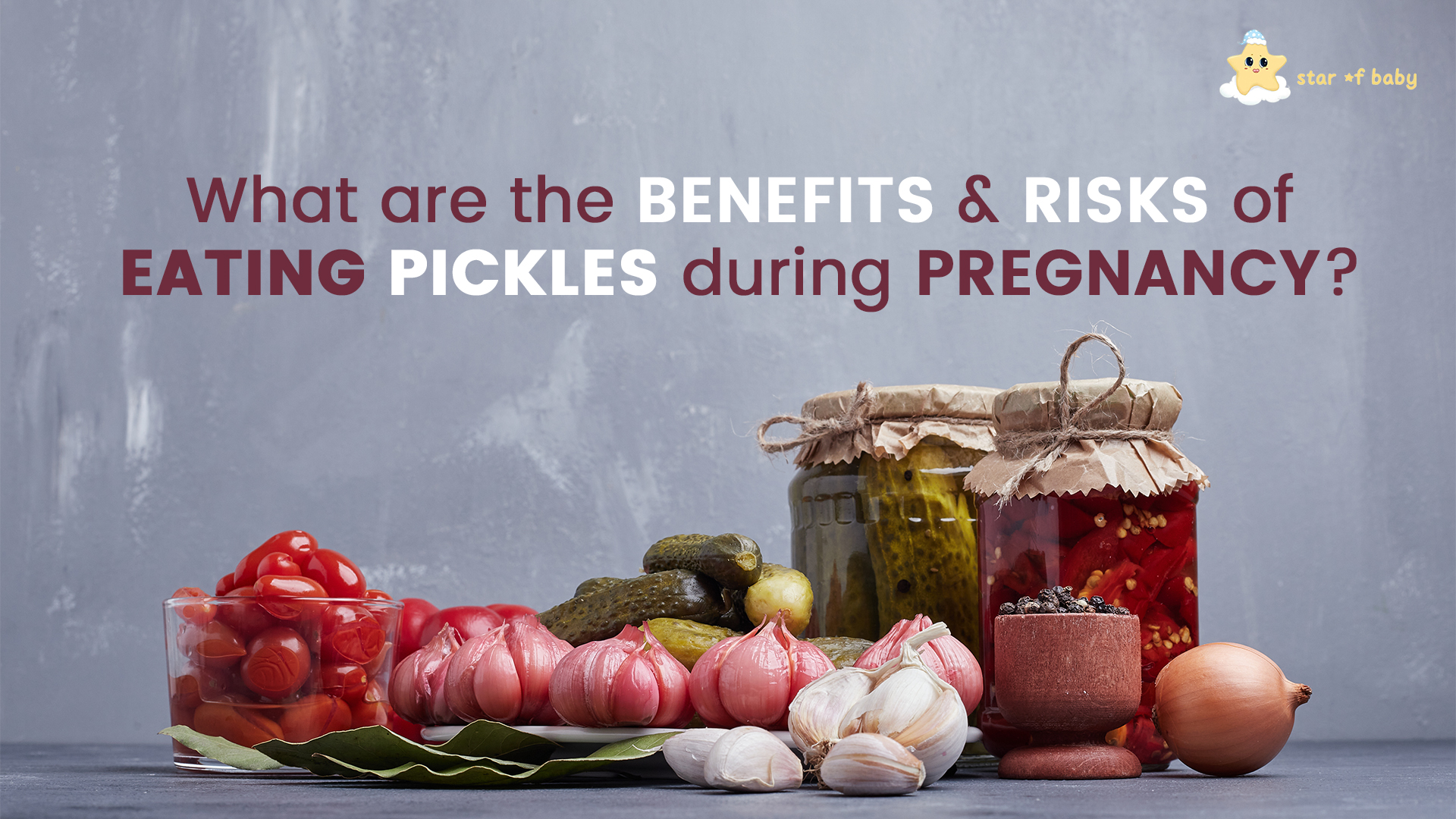 Congratulations you are pregnant!!! This phrase is just like magic that welcomes you into the new world, the world of parenting. During this phase, women experience a lot of things that affect their routines. They need to be careful about what to eat and what to avoid during their pregnancy. Cravings start as you enter your early pregnancy period. Craving for pickles is something that almost every lady experiences during their pregnancy. But have you ever wondered what benefits and risks it brings along? And whether it is safe to eat pickles during pregnancy or not. In this blog, Star of Baby will try to bring you out of all your doubts regarding eating pickles during pregnancy. Let's Go!
Why do you crave pickles during pregnancy?
Craving pickles during pregnancy is quite normal but eating pickles in excess can harm pregnant women and the baby in the womb. It is advised to eat pickles in moderation during pregnancy to avoid any issues later on. Let's find out why pregnant women crave pickles during their pregnancy.
| | |
| --- | --- |
| Hormonal changes | Emotional stress |
| During pregnancy, when hormones like estrogen or other hormones changes, affect the buds of smell and taste. This is why a pregnant woman experiences a loss of taste senses. Some foods such as tangy things like pickles can satiate their senses of taste or smell, which is the reason pregnant women crave pickles. | During pregnancy, emotional stress can also be a reason that makes women crave different things such as pickles. |
Is it safe to eat pickles during pregnancy?
As we have told you earlier that during pregnancy, consuming pickles in moderation with a limited amount may not be harmful. But, we do not advise making pickles a part of your diet during pregnancy. Eating pickles during pregnancy in excessive amounts can lead to certain health issues. Hence, always keep it within a limit and in moderation during pregnancy.
The consumption of pickles should be minimum as they do not carry that many benefits to pregnant women and babies. For more doubts regarding what to eat and avoid during pregnancy, you should consult your doctor first.
Also read: PROTEIN REQUIREMENTS DURING YOUR PREGNANCY | BY STAR OF BABY
What are the risks of eating pickles during pregnancy?
Almost all pickles carry a high amount of salt with them. They add salt to the pickles to enhance the taste and to make them function as an anti-microbial agent. Salt aid in the preservation of pickles and also keep them away from many undesirable fungi, yeast, and bacteria. An excess amount of salt can cause gestational hypertension which can result in heart attacks and strokes during pregnancy.
On top of that, most Indian pickles contain oil in excessive amounts, which can lead to increased cholesterol levels and fat content in the body. Many of the readymade pickles contain chemical preservatives and are very spicy which can cause bloating or gas during pregnancy.
It will be best to eat homemade pickles during pregnancy as you can control the amount of oil and spices in the pickle.
What are the benefits of eating pickles during pregnancy?
It is normal for pregnant women to crave pickles during pregnancy. Some women crave it throughout the pregnancy while some experience this craving only for one or two trimesters. Eating pickles in moderation can be beneficial in several ways during pregnancy.
Also read: 10 fruits that you should consume during pregnancy.
Help to balance electrolyte levels in the body
Minerals such as sodium and potassium are important electrolytes in our bodies. Your body may need an extra amount of electrolytes during pregnancy. Electrolytes are essential to fulfil the demands of the developing foetus. Eating pickles in little quantities can fulfil this demand as pickles hold a considerable amount of sodium and potassium in them.
Good for the digestive system
Pickles help to improve digestion and immune function to some extent. Pickles carry healthy bacteria and this bacteria prevents them from getting spoiled. Eating pickles can multiply the good bacteria in the digestive system, which may help fight a lot of digestive issues.
Help fight free radicals
Pickles contain antioxidant properties in them. As we know that pickled fruits or vegetables are usually uncooked, which preserves their antioxidants. This way, these antioxidants can help in preventing your body against free radicals during pregnancy.
Also read: FOOD AND DRINKS TO HELP WITH MORNING SICKNESS DURING PREGNANCY BY STAR OF BABY
Strengthen the immune system
Fresh pickles of various vegetables and fruits, for example, Amla pickles and Mango pickles provide your body with important vitamins like vitamins A, C, and K, and minerals such as calcium, iron, and potassium. These vitamins and minerals may help you strengthen your immune system and also lowers your risk of diseases during pregnancy.
Comment