10 fruits that you should consume during pregnancy by Star of Baby
Jan 27,2023
By Star Of Baby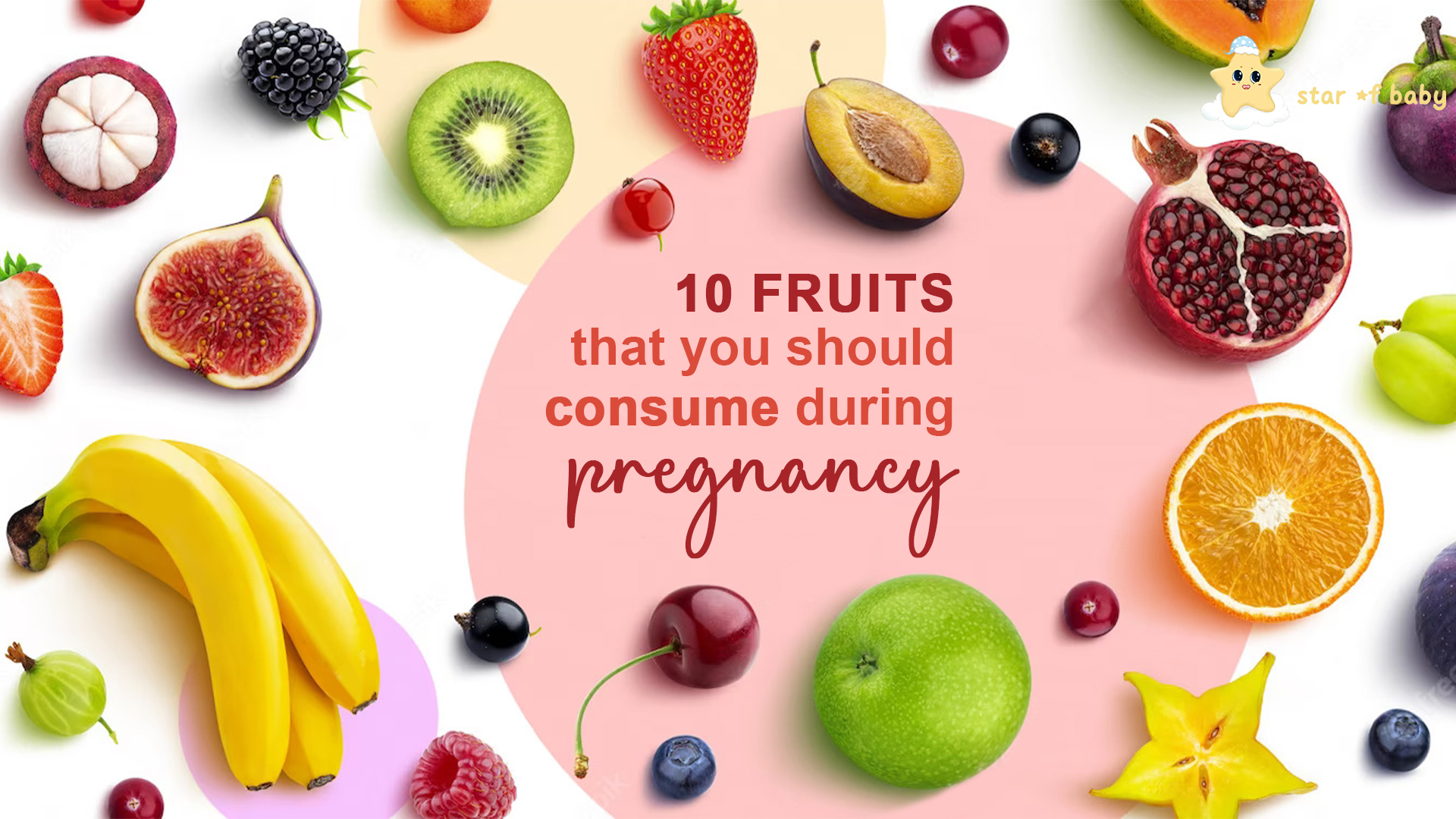 During pregnancy, you need to eat more to get proper nutrients. It is being said that you are eating for two during pregnancy but it doesn't mean that you will double up your food intake. You just need to consume a balanced diet to meet the additional requirement of nutrients for you and the baby in the womb during pregnancy. Your pregnancy diet chart is incomplete without vegetables and fruits. Required nutrients without consuming fruits and vegetables during pregnancy. Fruits are an important part of your pregnancy diet. Here, Star of Baby is talking about the importance of fruits during pregnancy and will suggest you 8 fruits that you should eat daily during pregnancy.
Also Read: FOOD TO EAT AND AVOID DURING THE FIRST TRIMESTER OF YOUR PREGNANCY
IMPORTANCE OF FRUITS DURING PREGNANCY
Fruits are the most important part of your pregnancy diet. Fruits offer multiple vitamins, fibre and minerals that are very important factors during pregnancy for both, the mother and the growing baby in her womb. Here are some of the key nutrients that can be obtained from fruits. Fruits can help you and your baby in the following ways:
Fruits provide essential nutrients such as beta-carotene to the baby. Beta carotene helps in the development of tissue and cells, and builds a strong immune system.
For the development of a baby's bones and teeth, Vitamin C is vital that can be found in fruits. It helps the body to absorb iron, and iron is the key mineral required during pregnancy so, it is important for the pregnant woman to get vitamin c in essential amounts.
Folic acid can be consumed through fruits and help pregnant women during pregnancy. Vitamin B is very important during pregnancy. Vitamin B prevents foetal growth defects related to the brain and the spinal cord.
Fruits, which are rich in fibre help you fight constipation and haemorrhoids, iron-rich fruits also prevent anaemia
Potassium is very much important for maintaining the fluid and electrolyte balance in your body's cells. Leg cramps, which are normal during pregnancy can be alleviated by consuming enough potassium.
Also Read: PROTEIN REQUIREMENTS DURING YOUR PREGNANCY
8 fruits that you should eat during pregnancy
These 10 fruits are crucial to eating during pregnancy to meet your nutrient requirement during pregnancy:
Bananas
Bananas come on top of the fruits that you should eat while pregnant. Bananas contain key nutrients such as folate, vitamin C, B6, potassium and magnesium. While folates protect the foetus from neural tube defects, Vitamin B6 regulates sodium levels. As we know that imbalanced fluid levels can cause nausea and vomiting in pregnant women, bananas contain magnesium and ensure a healthy fluid balance. A pregnant woman should eat one banana during the first trimester of her pregnancy.
Kiwi
Kiwi is also a main part of the list of fruits that should be eaten during pregnancy. Kiwi is loaded with nutrients such as Vitamin C, E, and A, potassium, phosphorus, magnesium, folic acid and dietary fibre. Kiwis also protect the respiratory system and help you cure cold and cough. Having high phosphors content, kiwi reduces the risk of blood clotting and helps absorb iron.
Apple
We all have heard the saying "An apple a day keeps the doctor away". Apples benefit during pregnancy too. Apples are the most important fruits to eat during pregnancy. Eating it can enhance immunity and strengthen the baby. It reduces the risk of wheezing, asthma and eczema in your child when he grows. Apples are high in nutrients that contain Vitamins A, E and D and zinc.
Pomegranate
Pomegranates are rich in calcium, folate, iron, protein and Vitamin C. So, they should also be eaten during pregnancy.
Grapes
Grapes are loaded with nutrients such as glucose, fructose, phlobaphene, gallic acid, silicic acid, oxalic acid, pectin, magnesium, calcium, iron, folic acid and different types of vitamins such as B1, B2, and B6 and all these nutrients play a crucial role during pregnancy.
Chikoo
Chikoos are rich in electrolytes, Vitamin A, carbohydrates and energy. Eating chikoo daily during pregnancy can help you control dizziness and nausea and keeps the bowel proper functioning.
Avacado
During pregnancy, avocados can help you in many ways. Avocados are said to have more folate than other fruits. They are also the best source of Vitamin C, B, and K, and contain fibre, choline, magnesium and potassium. Avocados are also rich in iron. Choline helps to develop your baby's brain and nervous system.
Watermelon
Watermelons are loaded with Vitamins A, C, and B6, magnesium and potassium. They are high in minerals and fibre. You should include watermelon in your diet during the last trimester because it can help relieve heartburn and swelling and it also eases muscle cramps.
Also Read: Benefits and side effects of honey during pregnancy by Star of Baby
FRUITS THAT YOU SHOULD AVOID DURING PREGNANCY
While most fruits are rich in nutrients, some of them are needed to be avoided during pregnancy. Here are some of the fruits that you should avoid during pregnancy:
Papaya
Black grapes
Pineapples
Dates
Read Also:
Comment