FOOD TO EAT AND AVOID DURING THE FIRST TRIMESTER OF YOUR PREGNANCY BY STAR OF BABY
Jan 26,2023
By Star of Baby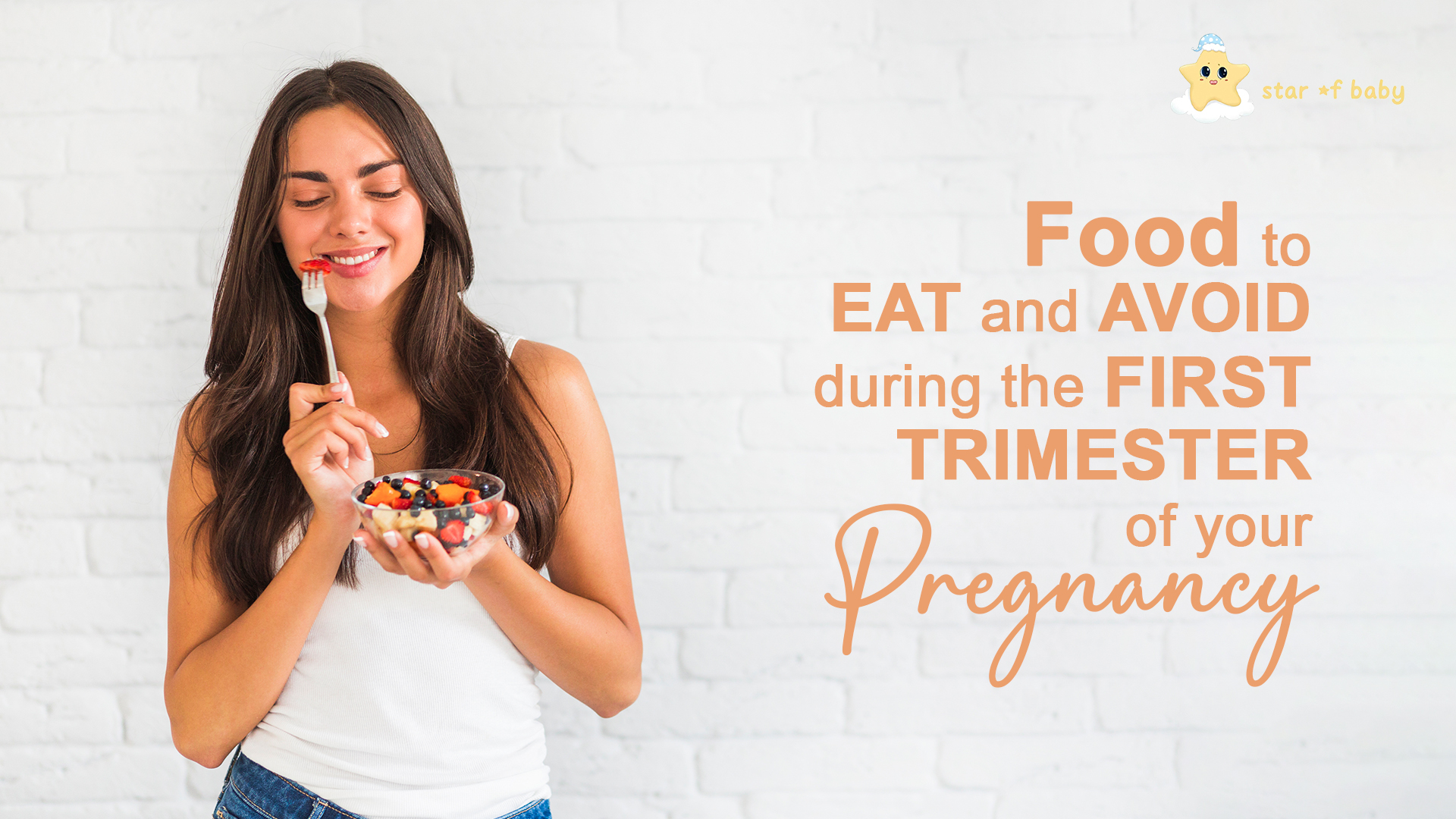 A right balance of nutrients is something that you should be thinking about throughout your pregnancy, especially during the first trimester. You can experience cravings during your pregnancy but you should have knowledge about the food that you need to eat or avoid during the first trimester of your pregnancy. You need to include food that is high in folates. Folates are essential for the baby's growth and for the development of its nervous system. Along with the folates, you must have to rest of the nutrients. Star of Baby is here with a sample diet chart for the first trimester of pregnancy.
Also Read: BENEFITS OF EATING DATES DURING PREGNANCY
| | | |
| --- | --- | --- |
| Food type | Serving | The variety that can be consumed |
| Fruits | 2-3 servings | Fresh, frozen, and canned, juices, include at least one citrus fruit |
| Vegetables | 3-5 servings | Cooked vegetables |
| Dairy | 3 cups | Milk, yoghurt, cheese, fortified soy milk |
| Protein | 2-3 cups | Beans, meats, lentils, fish, poultry, nuts, seeds, |
| Whole Grains | 3 servings | Whole-grain bread, cereals, crackers |
Also Read: 10 fruits that you should consume during pregnancy by Star of Baby
Nutrients that you need during your pregnancy:
You are eating for two (you and the baby in your womb), doesn't mean you need to double up your diet or food intake because you do not need double calories until you are in the third trimester of your pregnancy. A pregnant woman's body needs a high amount of protein, folic acid, Vitamin D, and Vitamin A during the third trimester of the pregnancy and you can get all these through prenatal vitamins and essential supplements.
Following a healthy diet, you would need a prenatal vitamin that will provide you with 400 mcg of folic acid and 10 mcg of Vitamin D per day. Your doctor can prescribe you any such multivitamins which are easily available in the market.
While taking supplements during pregnancy, you need to check the labels of the bottle of supplements to see if calcium, iodine, iron, magnesium, potassium, riboflavin, also known as B2, thiamine, also known as B1, Vitamin A, Vitamin B6, Zinc, Vitamin B-12, Vitamin C, and Vitamin D are present in the supplements that you are consuming during your pregnancy.
Also Read: 5 HEALTHY AND REFRESHING JUICES DURING PREGNANCY BY STAR OF BABY
FOOD TO EAT DURING THE FIRST TRIMESTER OF PREGNANCY
Pregnant women need about 300 extra calories, than their normal food intake. Complex carbohydrates like whole grain bread, pasta, vegetables, beans, and legumes need to be consumed regularly during their pregnancy. A great number of fluids and fibre are also an essential part of their diet while pregnant. The following are the foods that must be a part of their diet during this phase of life.
Vegetables
During the first trimester, it is important to have about three to five servings of multiple vegetables. Try to eat spinach on a regular basis as it is a rich source of folic acid. Being a powerhouse of iron, broccoli helps in the formation of red blood cells in the baby which happens during the first trimester of pregnancy. Note:- Women with hypothyroidism need to avoid broccoli. Green peas, tomatoes, red, green, and yellow bell peppers, asparagus, and sweet potatoes are all highly needed during the first trimester of pregnancy.
Fruits
The best amount of fruit during the first trimester of pregnancy is at least three servings per day. Add citrus fruits to your diet which are a good source of folic acid, you can try to grapefruits, oranges, and sweet limes. Avocados, bananas, pears, cantaloupes, cherries, grapes, guavas, apples, watermelons, pomegranates, and mangoes are some other fruits that you can include in your diet.
Non-vegetarian
Warm chicken soup, eggs, and lean meats are examples of non-vegetarian food that you can add to your diet for the first trimester of pregnancy. Make sure to eat properly cooked poultry and meats to prevent any issues related to digestion and bacterial infections. Fish is rich in omega-3 fatty acids, but you should avoid deep-sea fishes like king mackerel, shrimp, shark, and swordfish, which tend to have high mercury content.
Dairy products
Add cottage cheese to your diet as it is a good source of protein and calcium which are essential for bone and muscle development. Yoghurt, curd, low-fat milk, and different varieties of cheese can also be consumed during the first trimester of pregnancy.
Whole grains
Include whole wheat, oats, barley, corn, millet, and rice in your first-trimester diet during pregnancy. You can also add lentils in the form of soup or cutlets. Grains are essential to provide energy to your baby and for the growth of the placenta.
Protein
Make sure that you get at least two servings of proteins per day. Eggs, cottage fish, meats, nuts, poultry, milk, and peanut butter can provide you with a sufficient amount of protein. Always keep your allergies in mind before adding things to your first-trimester diet.
Other foods
Nausea and morning sickness can be experienced throughout the first trimester. So, to keep handy such stomach-friendly food items, for example, ginger ale, crackers, pretzels, and flavoured popsicles.
Read Also: BREASTFEEDING BENEFITS FOR BABY AND MOTHER BY STAR OF BABY
Food that you should avoid during the first trimester of pregnancy
The following is a list of food that you should avoid during the first trimester of pregnancy.
Fish containing mercury, such as swordfish, king mackerel, and shark
Raw or undercooked shellfish and eggs
Raw meats and poultry
Milk that is not pasteurised
Soft cheeses such as brie, feta, or blue cheese that are unpasteurised
Raw sprouts
Fruits and vegetables that are not washed properly
Papaya
Pineapple
Black grapes
Eggplant
Cabbage and lettuce
Excess caffeine
Too much sugary food such as desserts and sweetened beverages
Read Also: WHAT ARE THE PREGNANCY SYMPTOMS AND WHEN DO THEY STAR AND FALL BACK BY STAR OF BABY
Comment