AESTHETIC NAME IDEAS FOR BABY GIRLS STARTING WITH D, S, K AND N BY STAR OF BABY
Sep 29,2022
By Star of Baby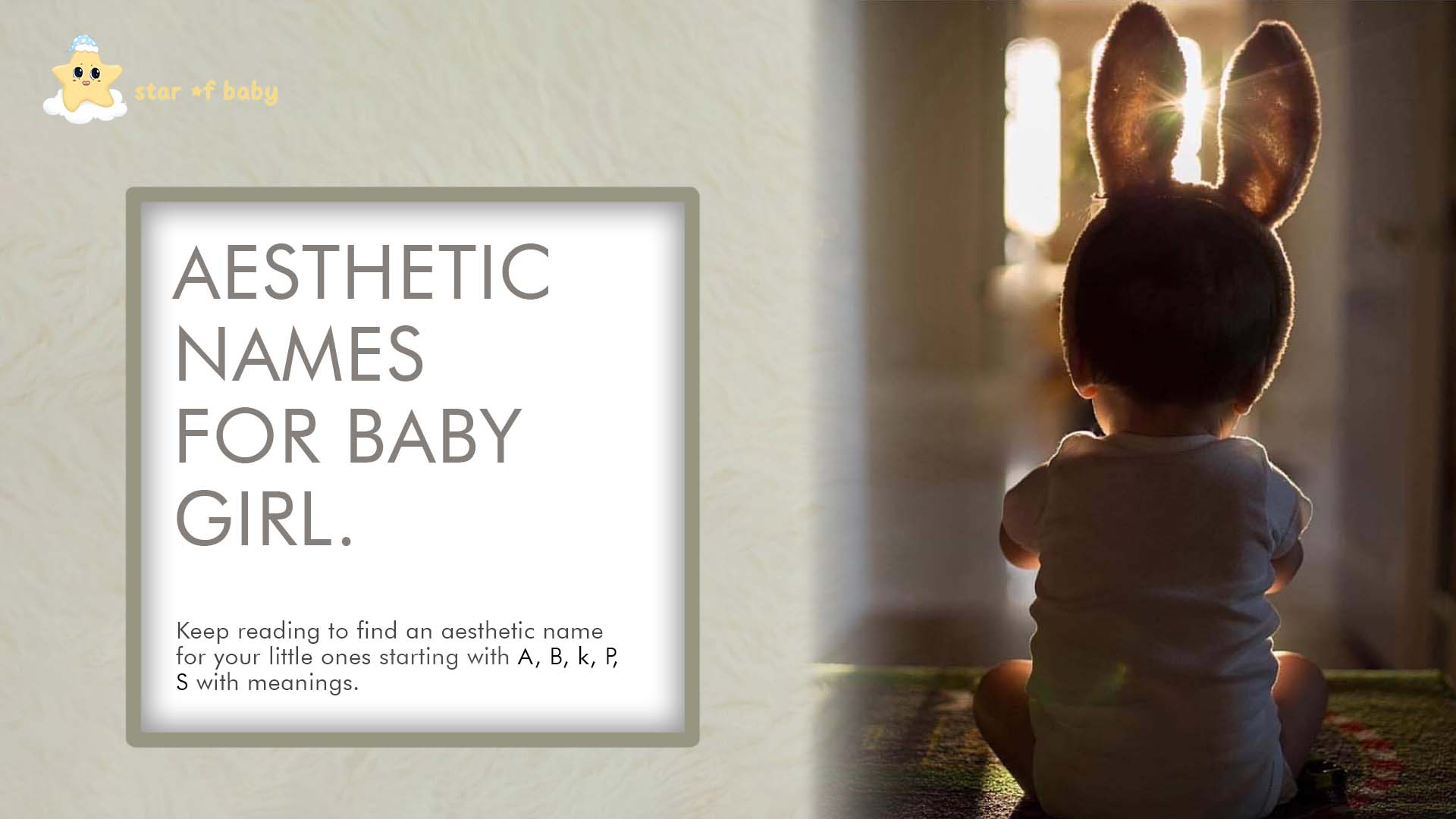 People's names might influence how they think about themselves and the way in which people might think about them. Parents need to name their child with a name that could define her/his personality and the name that the child would like after growing up. Finding an aesthetic name is not a piece of cake, many questions, and many doubts come with each name such as what is the meaning of this name? Would the baby like the name after growing into an adult? How this name would affect his/her life? Having these kinds of questions in mind while selecting a unique name for the baby is natural and good too. These questions help you to name your baby a perfect name.
If you are the one struggling with these kinds of questions then you are at the right place. In this blog, we will suggest some aesthetic name ideas for baby girls, starting with D, S, K, and n, with the meaning of each name. Keep reading to find the unique and perfect name for your baby girl.
Aesthetic name ideas for baby girls starting with D
Name Meaning
Deepa Light
Diksha Initiation, Sacrifice, self-reliant
Drishti Vision, Sight
Devpriya Beloved of Lord
Deepali Happiness into one's life, joy
Deepal Burning lamp, light
Devina Beloved, divine
Dhani Rich
Dhanusha Genuine
Darshini Another name for Goddess Durga
Dharti The earth
Dakshayani Goddess Durga
Divyanka A divine person, a gift of God
Devyani Chariot of the Gods, one with divine power
Deepika Light
Dhanisha Full of hope
Dhanshree Goddess of wealth, Goddess Lakshmi
Devika A river in Himalaya
Disha Direction, one who can show the right direction
Damyanti Soothing, subduing
Dhara The eath
Dhamini Self-controlled
Darpana Miror
Dhanak Wealthy, prosperity
Dipshikha Flame, Lamp
Deepanshi Brightness
Divya Divine
Damini Lightning
Daksha Shiva's wife, The earth
Dhruvini The pole star, immovable
Deepti The ray of hope
Dwiti Dual, Second
Devanshi A Part of God
Darsha Paying respect, knowledge, vision
Dikshita Expert, initiated
Durga Goddess Durga
Also read Popular name ideas for girls.
Damyanti Soothing
Dayavanti A goddess of mercy
Aesthetic name ideas for baby girls starting with S
Name Meaning
Sarika The mynah bird, beauty, Another name of Durga
Sahaj Natural
Sanjana Gentle, in harmony
Saumya born of Soma (moon)
Samridhi Good luck, wealth, prosperity
Shanvi Goddess Parvati, attractive
Shivika Palanquin
Suruchi Expert in Vedas
Saira Princess
Sunanda Happy, pleasing
Shefali A sweet-smelling flower
Siddhi Achievement, Perfection or completion
Suhani Pleasant
Suhasini Goddess Saraswati
Saloni Charming, beautiful
Shagun Omen, Luck, Fortunate. Auspicious moment
Sargun All good things
Smiti A smile
Simran Meditation, remembrance
Shivani Life and death
Shivalika Belonging of Lord Shiva
Shrivalli Goddess Lakshmi
Sudha Nectar
Samayra Enchanting
Sanyogita Complete satisfaction
Smeera Goddess of beauty
Soha Hidden or invisible, star of a constellation
Sonalika Golden
Sonika Golden, beautiful
Shweta Goddess Saraswati
Shruty That which is heard
Star of Baby : An affordable diaper range for babies.
Aesthetic name ideas for baby girls starting with K
Name Meaning
Kiran Ray of light
Kajal Beauty of eyes
Katyani Goddess Parvati, dressed in red
Kanishka Name of a king
Kinjal River bank
Kangana A jewel of women
Kumud A lotus
Kashish Attraction
Kaishi One has beautiful hair
Khanak The golden one
Kshitija Daughter of the earth
Kaamna Desire or wish
Kanika Atom, seed, or gold
Kasak Test
Kesar Saffron, mane of a horse or lion
Khushboo A pleasant smell
Khushali One spreading happiness
Khushi Joy, happiness
Kashvi Shining, bright
Kamya Good-looking, charming
Kaveri A river in South India
Keerti Famous, well known
Kriti Action, a work of art
Kareena Flower, pure, innocent
Kapila Tawny, reddish brown
Kamakshi One with loving eyes, Goddess Lakshmi, Goddess Parvati
Kusum A flower, blossom
Kiara Light or clear
Kavya Poem
Karishma Miracle
Related content: Naming ideas for boys.
Aesthetic name ideas for baby girls starting with N
Name Meaning
Niharika Dew drops, bunches of stars
Natasha Birthday of Lord
Naina One having beautiful eyes
Neerja Lotus
Noorjahan One who spread light
Nupur Anklet, Payal
Neena Iittle girl
Nabiya One having high status
Nazima Poetess
Nagina A gem
Naira Girl glittering, shining
Noor Brightness
Nayantara Star of the eyes
Nitisha Ardhanareshwara, Goddess of justice
Neha Love, affection, one having beautiful eyes
Nandini A woman who brings joy
Nitya Constant, eternal
Nikita People's victory, The earth
Niyati Destiny, faith
Nirmala Clean, virtuous
Prevent diaper rashes with Star of Baby diapers for kids!!
Nivedita : One dedicated to service, one who surrendered to God
Navya Young, praiseworthy
Nirjala Peace of water, love
Nimrat One who carries god's massage
Nidhi Treasure, wealth
Nisha Night
Nilima A beauty by its blue reflection
Nidra Goddess of sleep
Netra Vision
Nalini Lotus, goddess Gayatri
Comment