UNIQUE NAME IDEAS FOR A BABY BOY STARTING WITH "K" | BY STAR OF BABY
Sep 26,2022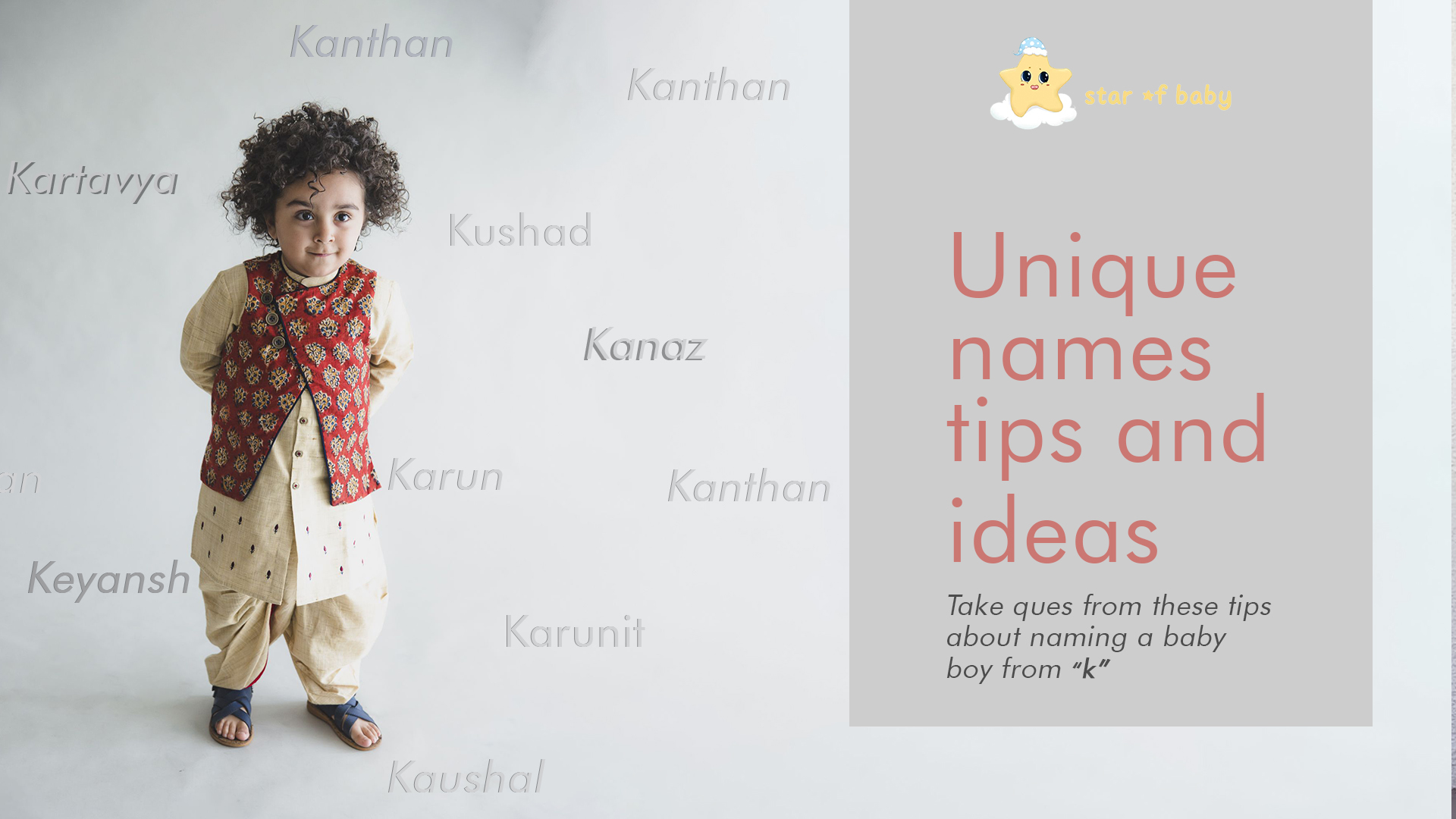 By Star of Baby
The most challenging task for parents that comes up with the birth of a new born child is, naming their child. Relatives and friends, making the job more difficult, suggest many names. But finding a unique and meaningful name is such a mind-smashing task.
If you are the one who is looking for a unique name for your baby boy starting with "K" then you are in the right place. Here we will suggest some unique names for your baby boy starting with "K". With our vast collection of unique names for baby boys, your task of finding a good name starting from "K" will be easier.
The following list is loaded with many unique names for a baby boy starting with "K" with their meaning. So you can choose a name for your little one that he will be proud of as he grows up. at the end we will suggest you some names out of these names, Keep reading……!!
Here is a list of Baby boys' names starting with "K".
Kavi - A poet; lyricist
Kiash - Lord Shiva
Kahal - Lord Shiva
Keshiv - Lord Shiva
Kushil - Lord Shiva
Kaami- Perfect
Kirishva - Lord Shiva
Kapilanjan - Lord Shiva
Kritanya - Lord Vishnu
Kaanishk- an ancient king who followed Buddhism
Kanha - Lord Krishna
Kevit - Lord Krishna
Kiesh - Lord Krishna
Kinishk - Lord Krishna
Kiyansh - Lord Krishna
Kadamb – Name of a tree
Kriyaan - Lord Krishna
Krushil - Lord Krishna
Kavis - Lord Ganesha
Kajish - Lord Ganesha
Kadar – Devine destiny
Kavesh - Lord Ganesha
Kuha - Lord Muruga
Related blog: Baby girl name ideas and tips.
Kovan - King; emperor
Kadeem – Slave to god
Kadhir - Sun's rays; ray of light
Kamban - The poet who composed Kamba Ramayanam
Kavipriyan - One who adores poetry
Kailash – Abode of lord Shiva
Kalaivarman - An artistic person
Kamik - Desired
Kirin - Poet; one who praises
Karnik – Judge
Kajesh - Knowledge
Kethan - Pure gold
Kartish - A star; one who blossoms once a year
Kathvik - Precious; Lord Vishnu
Kalash – Sacred pot
Koustub - A gem on the chest of Lord Vishnu
Kritesh - Famous
Krithin - Famous; wealthy
Kalind – Mountain, The sun
Krithiv - Creation of God
Kayilainathan - Lord Shiva
Kaviko - King of poets
Kalki – White horse
Buy this book set to help your kid to grow with more confidence and moral values.
Kabilan - Name of a saint
Kanthan - Lord Murugan
Kamlesh – Another name of Lord Shiva
Kankeyan - Lord Murugan
Karkodan - King of snakes
Kathiran - One who resembles a ray of light
Kushant - Happy little one
Kanish – Caring
Karan - A warrior; light
Karun - Compassionate
Kiyan - Grace of God; royal
Kohil - One with a sweet voice
Kunal - An ancient saint; God of the universe
Kanwan - Lotus
Kayasth - Son of Lord Chitragupta
Khagesh - Garuda, the king of birds
Kishora - Youthful
Kalp - Thought; imagination
Kayosh - Cloud; rain
Karan – The firstborn of Kunti, talented
Ketak - Flower
Keyur - Armlet; a bird like a phoenix
Kalpesh - Lord of perfection
Keyansh - Person with good qualities
Star of Baby, an affordable diapers range for kids and infants.
Kalpaj - Born in paradise
Karm – Deed, Destiny, Action
Kavtuk - To praise; enthusiasm
Kurpal - Kind; merciful
Karunit - Lord of mercy
Karn – The ear
Khildev - God of everyone
Kriteyu - Immortal
Krishvik - Farmer; one who works hard
Karneih – Lord of mercy, Lord Krishna
Kanak - Gold; precious
Kaschith - The sun
Kalaimani - Gem of arts
Karthigan - Lord Murugan
Kartavya – Responsibilities, duty
Karvannan - Lord Krishna
Kaviarasu - King of poetry
Karun – Gentle, merciful
Kritanu - A skilled person
Kalpak - A heavenly tree
Kripalu - Merciful; compassionate
Karv – Love Desire
Kushad - Talented
Kanishta – Youngest
Kaabir - One who is in charge; great; powerful
Kadeem - Slave to Allah; servant
Kasim – Divided, Lovely
Kafeel - Assuring; responsible
Kahill - Best friend
Karman - One who honors others; generous; selfless
Star of Baby diapers: More comfortable and cry-free nights to the babies.
Kaysan - Wise
Kanza - Treasure
Khaza - Gift from God
Kuram - Generous; selfless; bright light
Kavish – Name of Lord Ganesha
Kasoor - Abounding; plenty
Kanaz - Bright
Kayam - Immortal
Kezin - Merciful
Kalainesan - One who loves art
Kaushal – Clever, Skilled
Kalanjiyam - Repository of wisdom
Kavithasan - One who worships poetry
Our Suggested names start with "K" for your baby boy.
| | |
| --- | --- |
| NAME | MEANING |
| Kanaz | Bright |
| Karv | Love, Desire |
| Karun | Gentle |
| Kartavya | Responsibilities, duty |
| Kushad | Talented |
| Karunit | Lord of merci |
| Kaushal | Clever, skilled |
| Karn | The ear |
| Keyansh | Person with good qualities |
| Kunal | God of the universe |
| Kavish | Lord Ganesha |
Comment