Aesthetic names for baby boys starting with A, B, K, P, and S | BY STAR OF BABY
Sep 29,2022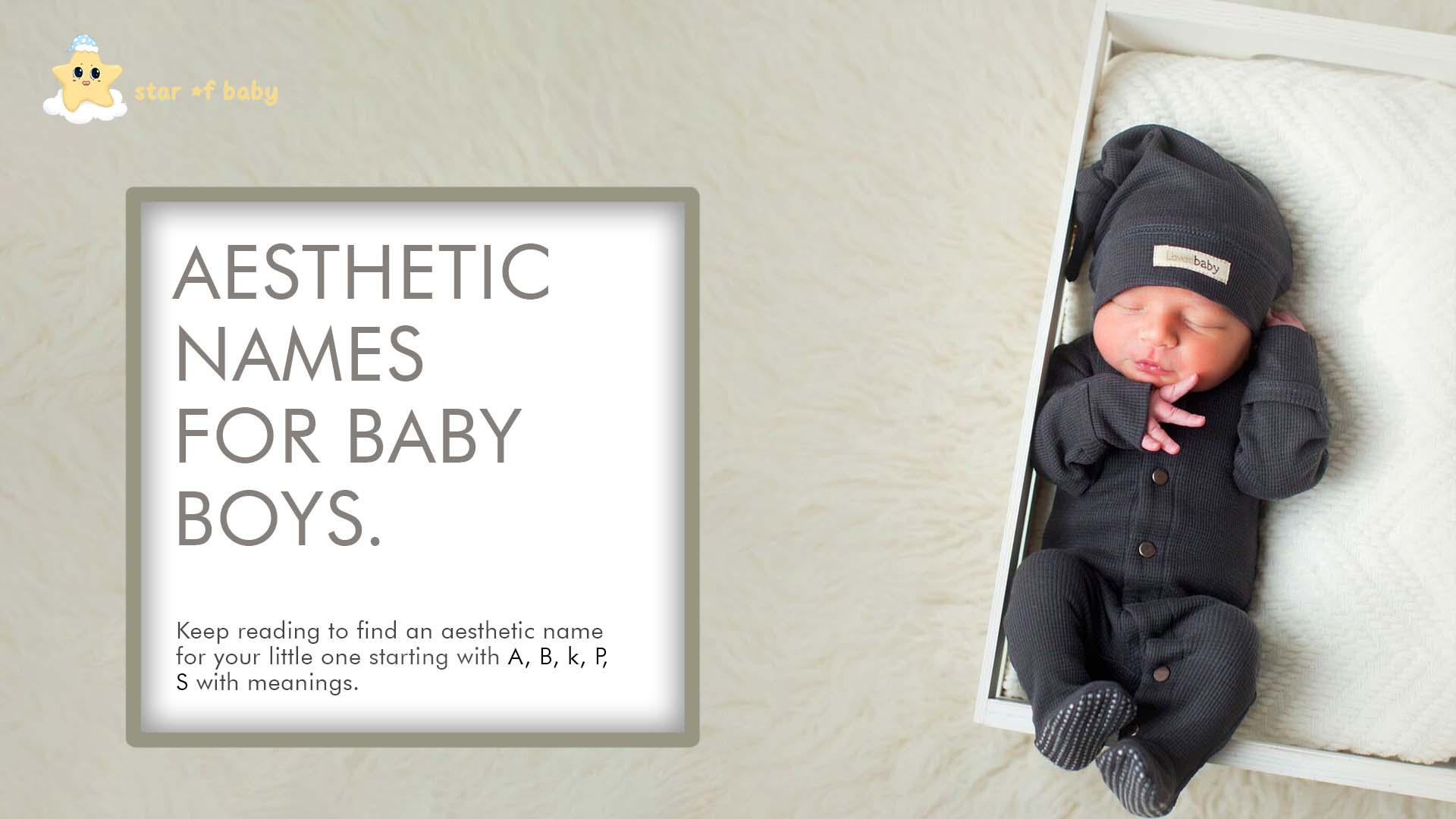 By Star of Baby
A baby's name becomes his identification as he/she grows up. Parents need to name their children after a good research. The name of the baby should be easy to pronounce, never choose a name that works as a tongue twister. The Baby's name should be aesthetic and straightforward. Parents want to name their baby that could reflect their feelings towards their child.
Many parents name their child with the name of famous personalities while others want to name their children as unique as their children. This blog suggests some unique and aesthetic names for baby boys, starting with A, B, k, P, and S with meanings. Keep reading to find an aesthetic name for your little one.
Aesthetic names for baby boys with meaning, starting with A
Aarav : A sound or thundering
Aditya : The sun
Amit : Infinite
Anish : Supreme
Abhishek : a method of worship in Hinduism and Buddhism, related to cleansing and purification
Abhimanyu : Self-respect, passionate, Heroic
Amrit : Nectar
Aman : Peaceful
Ajit : Invincible, irresistible
Ahsaan : Perfection, favor
Amar : Immortal
Ashwin : Light, horse tamer
Adwit : Unique
Akshay : Fresh, immortal
Related blog -Popular names for baby girls.
Aakash : Sky
Anshul : Brilliant, radiant, sunbeam
Ajmal : More beautiful
Aadesh : Command, counsel
Anuj : Young one
Abir : Fragrance, aroma
Akhil : Complete
Amandeep : Symbol of peace
Arjun : Confidence and power
Aamir : Populous, Prosperous
Aesthetic names for baby boys with meaning, starting with B
Bhagyesh : Lord of luck
Bhuvan : The world
Bhavesh : Lord Shiva
Bhanu : Sun, luster, a ray of light
Basim : One who smiles
Bakhtawar: Fortunate
Bhavyam: Eternal, infinite, immortal
Bharat : India
Star of Baby: Affordable diapers for kids and infants.
Basit : The giver of prosperity
Bhuvik : One who is divine and heavenly
Bhavish : Future, Lord of Existence
Bhargav : Lord Shiva, attaining radiance
Bhavishya : Future
Bhavnish : King, Lord of the world
Bhoumik : Lord of the earth
Bhaskar : The sun
Biraj : Born of the moon
Brijesh : King of Braj
Aesthetic names for baby boys with meaning, starting with K
Kapil : The sun, Another name for Lord Vishnu
Kartik : Name of one of the month
Kaushal : Clever
Khushal : Happy
Kanwal : Lotus
Karamjeet : Hardworking
Karan : Kunti's firstborn
Karn : The ear
Keshav : Refers to Krishna's long beautiful unshorn hair

Also read : Unique name ideas for baby boys.

Kundan : Beautiful, pure, glittering
Kabir : The Great
Kadam : First initial
Kamal : Lotus
Kaamil : The perfect one
Kalki : White horse
Kamlesh : Lord of lotus
Kunal : Lotus, a bird
Krishna : Lord Krishna
Kanha : Another name for Lord Krishna
Kanish : Caring
Kapish : Lord Hanuman
Kareem : Generous, Gracious
Karun : Compassionate
Kaustubh : A jewel of Lord Vishnu
Kaviraj : Poet of the kingdom
Ketan : Abode
Kush : Sacred grass, son of the Lord Rama
Kiyansh : Person having all qualities
Aesthetic names for baby boys with meaning, starting with P
Pawan : Breeze, wind, who is like air
Pankaj : Lotus
Parveen : Star
Palash : Flowering tree
Prajwal : Shining
Parag : Sandalwood
Param : The best
Parvinder : God of Gods
Paras : A stone, a Jain Tirthankar
Paresh : Supreme spirit
Paritosh : Delight, satisfaction, or contentment
Parth : Name of Arjuna, one who is close to Krishna's heart
Piyush : A drink that can make someone immortal, nectar
Prabhakar : Light maker
Prabhas : Lustrous
Pradeep : A source of light
Prateek : Symbol
Pranav : Om, a sacred sound and symbol
Prem : Love
Pushp : Flower
Punit : Pure
Prayag : A place of sacrifice
Prithvi : The earth
Prakash : Bright light
Aesthetic names for baby boys with meaning, starting with S
Sabid : Hardwork and motivational
Sameer : Holy, Jovial, gust of wing
Shiva : Lord Shiva
Sambhav : Possible
Sagar : Ocean
Sadik : Refers to honesty and sincerity
Sajan : Loved one
Saaras : a bird
Sahas : A person of great bravery
Saatvik : Power and wellbeing in the future
Sabhya : Mannered, civilized one
Sachet : Pure existence
Sachin : A name of the Hindu god Indra
Saeed : One who is happy, patient
Sahaj : Natural
Sahil : Guide, leader
Shivam : Lord Shiva
Sainath : Sai baba, Legend
Shivansh : Part of Lord Shiva
Samar : War, evening conversation
Check out baby girls' names tips and ideas!

Sanjay : Conquering, victory
Shubh : Auspicious
Shubhankar : Auspicious
Saksham : Capable, skillful
Salim : Safe, undamaged
Salman : Obedient, disciplined, humble
Samarjit : Winner of the battle
Samarth : One who is capable
Samraat : King, ruler
Sanjiv : Long life
Sanket : Sign, goal, stipulation
Sarfaraz : Respected, blessed
Sartaj : Crown
Shekhar : Lord Shiva
Shivam : Lord Shiva
Comment