POPULAR NAMES FOR HINDU BABY GIRLS | BY STAR OF BABY
Sep 29,2022
By Star of Baby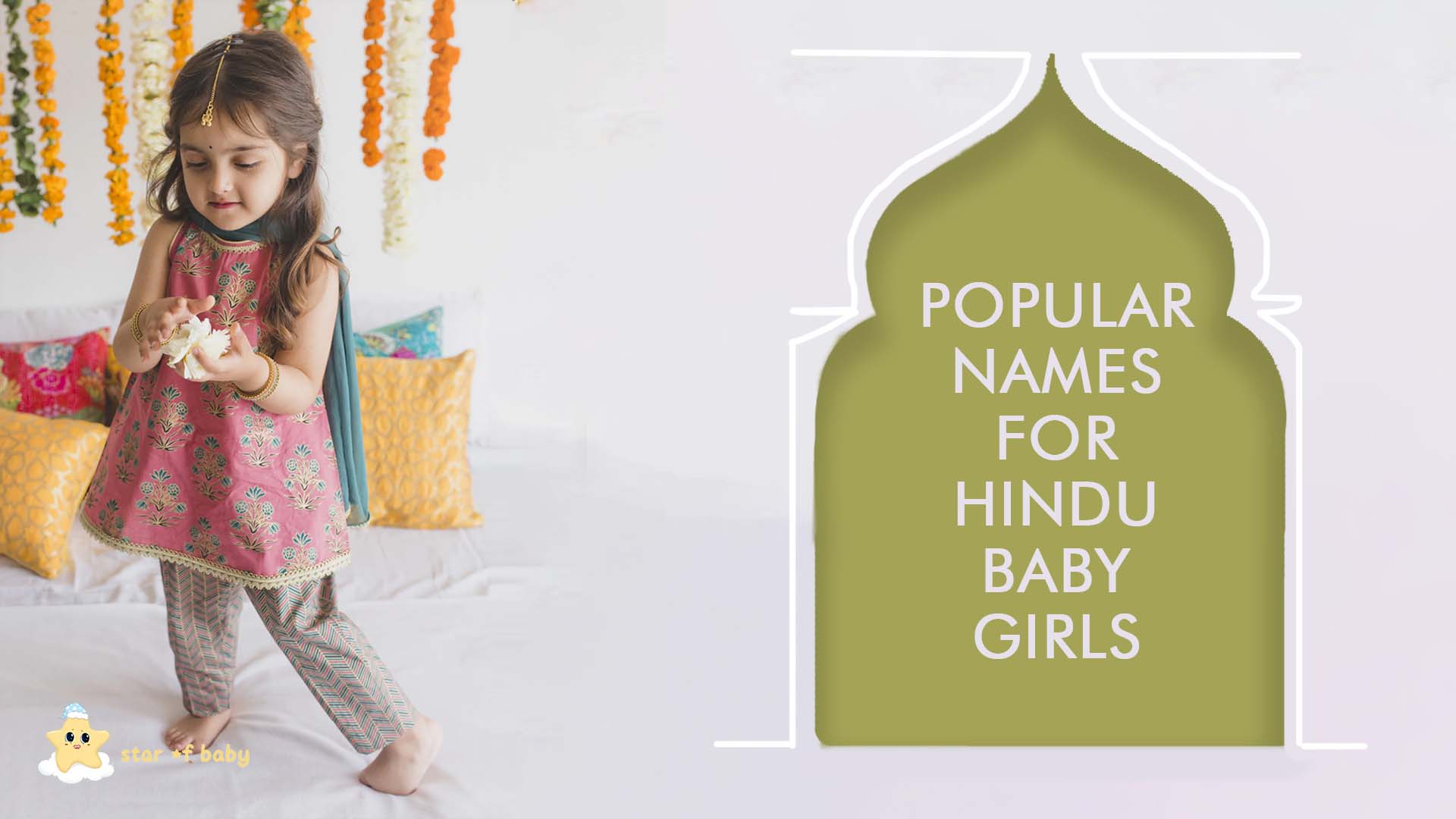 It is a joyous moment when a baby takes birth in a family, whether it is a boy or girl. In Hinduism, it is believed that girls are incarnations of the goddess Lakshmi. The birth of a girl is considered auspicious in Hindu families. Families welcome the girl as they are welcoming the goddess. And when it is about "Namkaran", everyone takes part in this ritual, suggesting different and unique names for the baby girl. With such a long list of suggested names, it is hard to choose one unique name for the baby girl.
On the other hand, parents want to name their baby girl independently. They strive hard to decide on a unique and popular name for their girl child. A name that could make the baby girls feel proud when she grows up.
If you are one of them then you are at the right place. Here we are suggesting some popular and unique names for Hindu baby girls. This list consists of the meanings of each name. Keep reading!!!
List of Popular and unique names for Hindu baby girls.
Rajshree : Sage like a king
Kavya : Poetry in motion
Vanshika : Flute
Bhavna : Feelings
Latika : Goddess
Lavanya : Grace
Vishaka : A nakshatra or constellation
Radhika : Goddess of love and devotion
Himanshi : Part of the snow
Vedika : Full of knowledge, A river in India
Supriya : Beloved
Ritika : A tiny flowing river or stream, joy
Manvi : Girl with humanity
Jeevika : Water, source of life, livelihood
Araadhya : Worshipped, Blessing of Lord Ganesh
Vaani : Eloquent in words, a name of the Goddess Saraswati
Kinjal : River bank
Pakhi : a beautiful bird
Harshita : Full of happiness
Related blog: Aesthetic names for baby boys.
Taruna : A youth girl
Shweta : Pure, White, Goddess Saraswati
Shivgami : Goddess Parvathi
Smiti : A smile, happiness
Kritika : Name of a star from the Nakshatra
Annpurna : The giver of food and nourishment
Bhumika : Earth
Bhashika : Reflection, splendor
Pragya : Wisdom, insight
Meenal : Precious Gem
Shraddha : Very attentive, Giver of luck, veneration
Anushka : Grace
Manushi : Woman, Goddess Lakshmi
Divya : Divine brilliance
Disha : One who can show the right direction
Devika : Little Goddess
Divyanka : A divine person
Ishita : Mastery, Superior
Pranjal : Honest, simple, self-respecting
Veshnavi : Worshipper of Lord Vishnu
Mihika : Mist , fog
Kiara : Light
Shamita : Peacemaker
Shanvi : Goddess Parvati
Chetna : Power of intellect or alert, consciousness
Parineeti : Beauty, Fairy
Also read 100 name ideas for baby boys and baby girls.
Pratiksha : Hope
Soumya : Born of Moon
Yuvika : Young woman
Niharika : admired for looks
Ananya : Unique
Nisha : Night
Surbhi : One who has everything
Srishti : Creation of the world, nature, universe
Akanksha : Desire
Akshita : Wonder girl
Riddhi : Good fortune, Prosperity
Geetanjali : One who sings spiritual songs as submission to the God.
Sarika : Bird
Bhavya : Virtuous, splendid
Nikita : The earth
Chhavi : Reflection, image
Sandhya : Twilight
Comment