TIPS AND FOOD RECIPES FOR 8 MONTH AND ABOVE BABIES | BY STAR OF BABY
Sep 21,2022 | Star of Baby
By Star of Baby
l
Mother's milk is best for babies for the first 6 months. It provides ideal nutrition for babies. Mother's milk contains important antibodies that reduce the disease risk of the baby. Babies get all their nutrition from their mothers' milk. But at the age of 8 months or above, a baby needs a proper diet that can provide him/her with all nutrients. This is the age when we introduce other food to the baby.
Mashed potatoes, vegetable soups, Dal (lentils), and khichdi are some food you can feed your baby above 8 months.
Related: Diet plan for babies.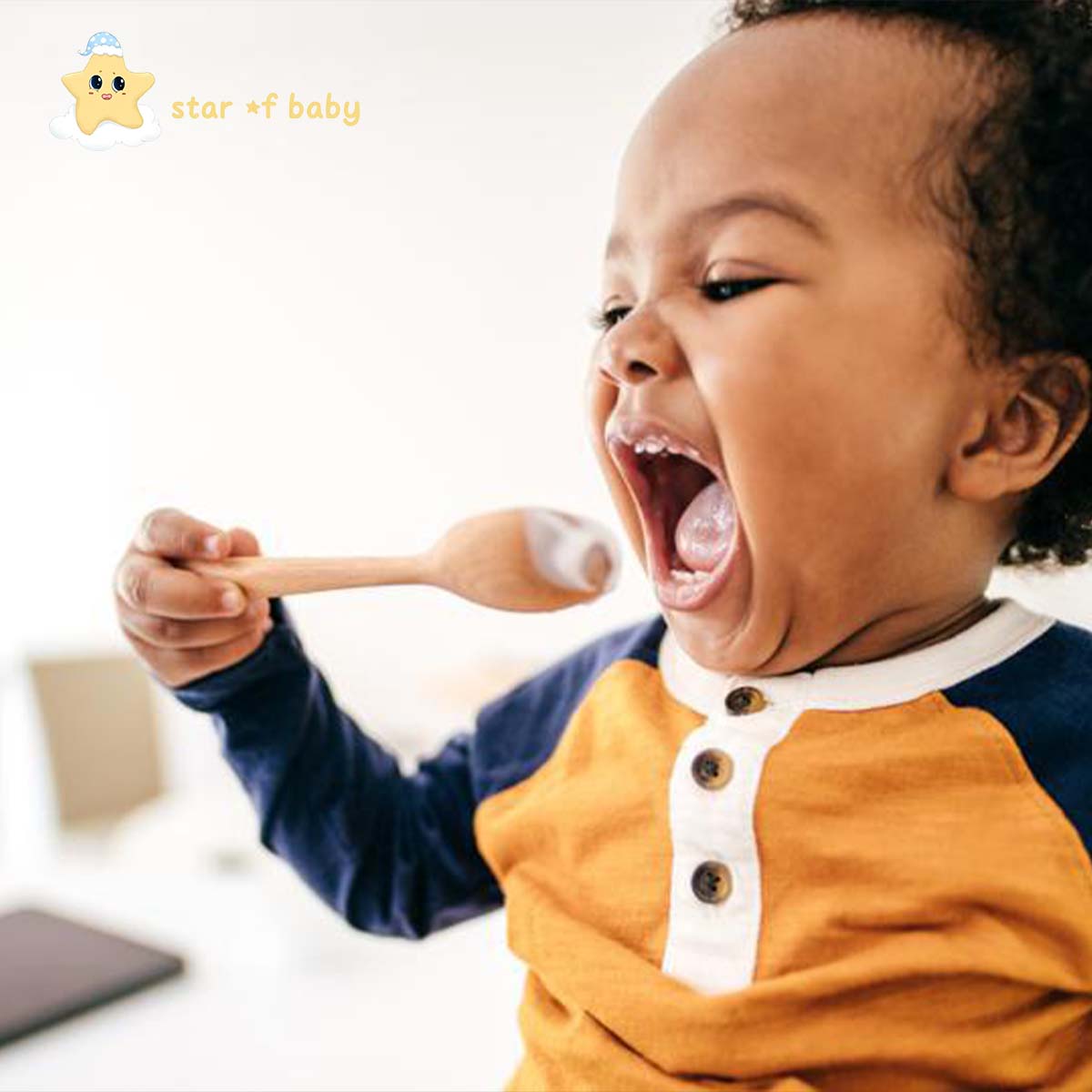 Here, we sharing some tips and recipes to prepare food for your baby at home.
RECIPE: MOONG DAL AND VEGETABLE MASH
Ingredients for Moong Dal Mash for babies
2-2/3 tbsp of moong dal (split yellow moong Dal)
1/3 cup finely chopped carrot
2-2/3 tbsp finely chopped French beans
The process to cook Moong Dal Mash for babies
To cook Moong Dal mash for babies combine all the ingredients.
Take ½ cup of water into the cooker.
Put all the ingredients in the cooker.
Mix it well and cook it for 3 whistles.
Let the steam go out before opening the lid.
Transfer the mixture to a bowl and let it cool slightly.
Blend the mixture in a blender till a smooth texture.
Serve the Moong Dal mash lukewarm.
Tips:
However Moong dal cooks quickly but if you are in hurry, you can soak the Dal before getting started to make it cook quickly.
You can add a pinch of salt and black pepper powder to the Moong Dal Mash for your baby (after consulting a paediatrician).
Other vegetables (like potatoes and peas) can also be used in the Moong Dal Mash for babies.
Before feeding this Moong Dal Mash to your baby, try to introduce the moong dal and veggies separately to your baby.
RECIPE: WHEAT PORRIDGE FOR BABIES
Ingredients of Wheat Porridge for babies
3 tbsp wheat flour
200 ml water
1 small apple
1/8 tbsp ghee
The process to cook Wheat Porridge for babies
Peel and cut the apple into small pieces
Blend the apple well and make a fine puree
Dry roast the wheat flour on medium flame until it changes its colour to light brown.
Switch off the stove and let the roasted flour cool
Pour water while stirring
Stir well until a smooth texture
Cook until the mixture thickens
Add ghee and turn off the stove
Pour the apple puree into the hot porridge
Mix it well and let it cool
Feed this wheat porridge to your baby
Tips:
You can use any other fruit rather than an apple for example chikoo, ripe banana, or pear.
You can roast the wheat in large quantities and store it to use later.
Homemade ghee will be best for the baby.
Pouring water on hot roasted wheat can make it lumpy.
Comment