GUIDE TO USING BREAST PUMPS: BENEFITS AND PRECAUTIONS | BY STAR OF BABY
Oct 15,2022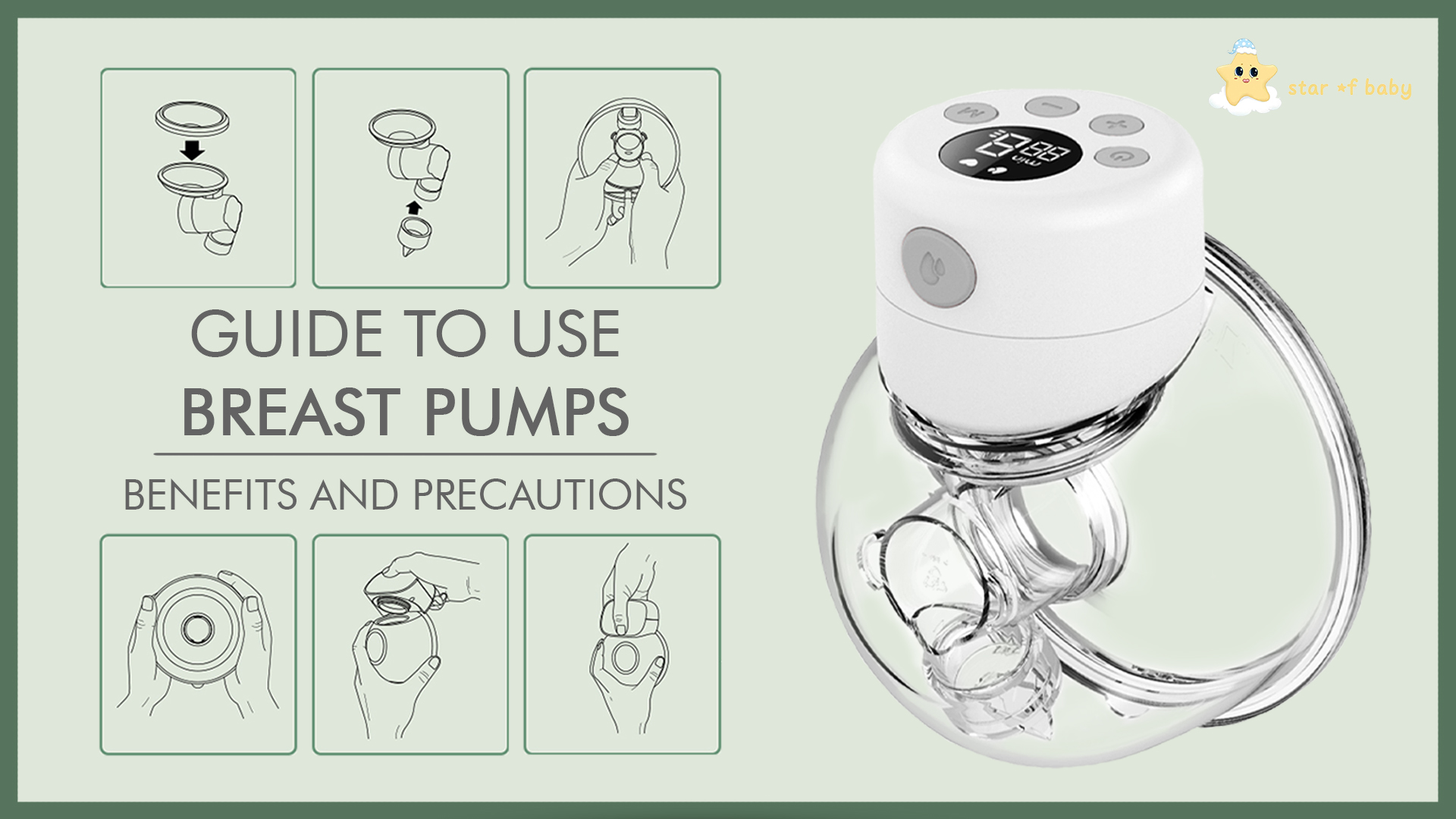 By Star of Baby
Mothers face many challenges after giving birth to their babies. A new mom needs extra care and good guidance and tips on each step of motherhood. Breastfeeding is one of the most important aspects and can be a tough task for new moms. New born babies also need support because they don't know the trick of breastfeeding.
New moms, especially working moms experience a lot of struggle providing breast milk to their new born babies as they can't be with their babies every time. They go with packaged milk to feed their babies. While some moms want to provide breast milk to their babies, even when they are away from their babies, in this situation, breast pumps are something that can help all the mothers out there. But first of all, they all need to learn how to use a breast pump correctly! Here in this blog, we will guide you and will tell you some benefits and precautions of using a breast pump.
Is it safe to use breast pumps?
A breast pump is a tool that is used to extract breast milk. Moms can collect breast milk in a bottle and anyone can feed this to the baby. Breast pumps are convenient and easy to use. It is a safe alternative for new mothers to provide breast milk to their babies without any interruption. Mothers can avoid packaged milk as they can provide breast milk to their babies using a breast pump. Moms need to know that everything is safe until they are using it in the correct manner.
What are the benefits of using a breast pump?
Increases milk production:

Breast pump helps you to increase your milk supply. If you pump just after or together breastfeeding, it can stimulate the amount of milk. You can store the milk to feed your baby in your absence.

A Safe alternative for working mothers:

Working moms can store their breast milk before going to their workplace. Anybody from the family can feed this stored breast milk to the baby in the mother's absence. In short, breast pumps are able to provide breast milk to the baby without any interruption.

Support during medical conditions:

Sometimes doctors suggest not breastfeeding the baby due to some medical conditions. In this situation, breast pumps help moms to collect their breast milk and they can feed this collected breast milk through a bottle to the baby.
Also read the 12 best food to increase breast milk supply.
How to use a breast pump?
1. Seek help from the user's manual:
Before using the breast pumps read all the instructions given on the pack of the breast pump. Read it carefully and follow the steps accordingly.
2. Clean it up:
After reading the manual you must ensure that all the parts of the breast pumps are cleaned and sanitized. You need to clean all the parts of the breast pumps after and before every use.
3. Place it correctly:
Place the breast pump on the nipple correctly, lean slightly and start pumping.
4. Set the speed:
Set the speed of the breast pump at low as mommies feel more comfortable with the low speed compared to the high speed.
5. Ensure the milk flow:
You won't see the milk flow right after you start pumping. It takes time to get the milk flow, you need to wait for some minutes after starting the breast pump.
6. Give a pause:
You should give pause to the breast pump. Never use a breast pump continuously. Always take a break of 1-2 minutes in between.
Also read: Breast feeding benefits to mom and baby.
What precautions do you need to follow before using the breast pump?
1. Consult your doctor:
Before starting breast pumping, you need to consult and take advice from your doctor. They will guide you to use a breast pump. Follow their instructions to benefit you and your baby.
2. Replace the old one:
Breast pumps need to be changed every 8-9 months. Never use an old breast pump, again and again, you should replace the old breast pump with a new one otherwise it will affect your baby's health.
Related content: Electric Vs manual breast pump.
3. Never ignore discomfort:
Sit comfortably, choose a place where you feel most comfortable use cushions and. If you are feeling uneasy while pumping, try to slow down the breast pump.
4. Take care of hygiene:
The breast pump comes in contact with you and your baby directly so, you should wash each part of the breast pump after and before every use. Take care of your hygiene too. Wash your hands properly. It is good for your and your baby's health.
Comment