DIET PLAN FOR 1 YEAR OLD BABIES BY STAR OF BABY
Sep 19,2022 | Star of Baby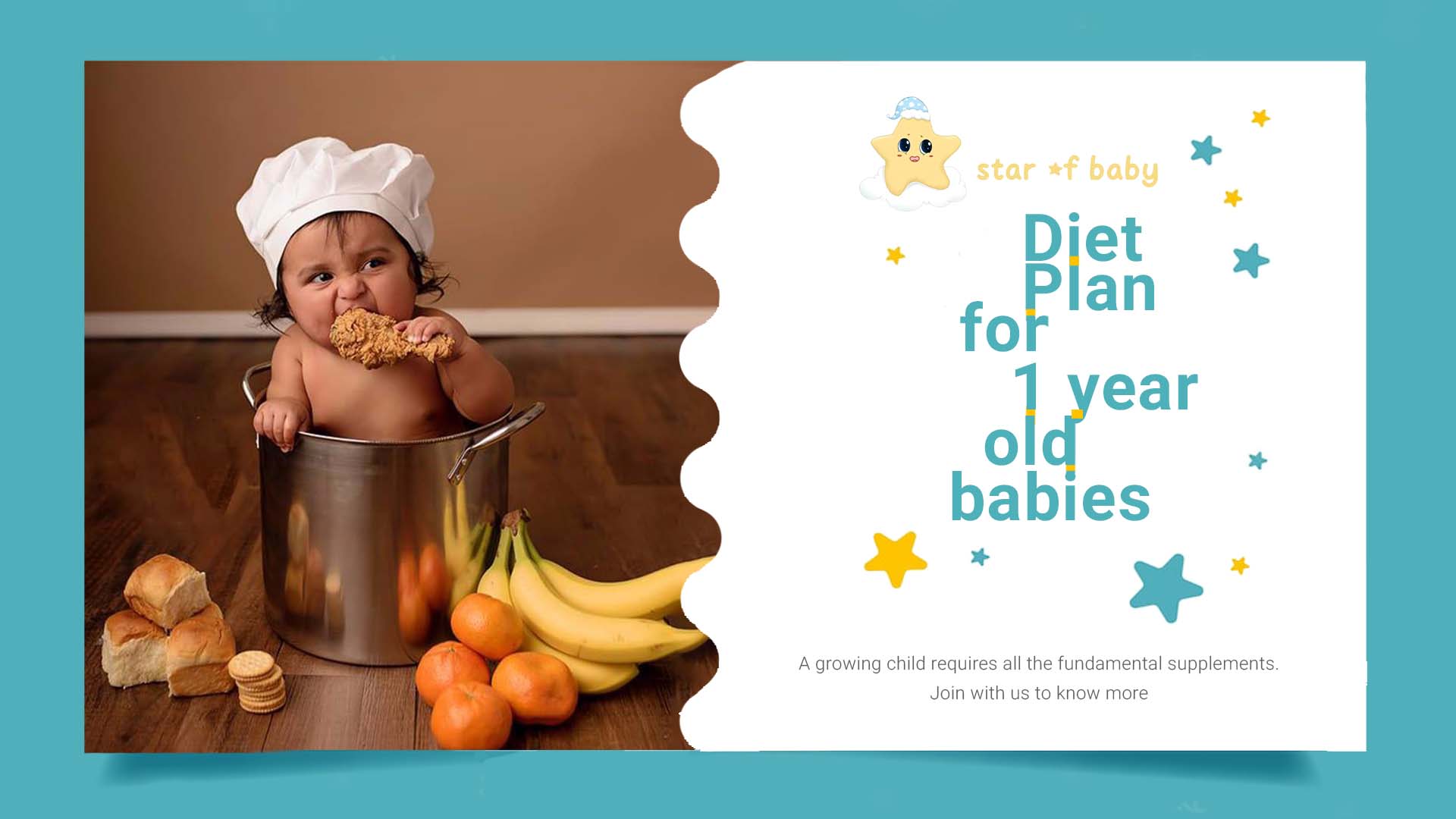 Congratulations!! Your little one has turned 1 year. At every age, the baby needs different nutrition. A growing child requires all the fundamental supplements like proteins, vitamins, minerals, sugar fats, etc. A newborn feeds only on the mother's milk which is sufficient for six months. After six months we slowly introduce other things to the baby for example mashed banana or potatoes and cereal. When a baby turns 1- year, he/she needs a proper diet. A diet that will give them all the required nutrition for their growth.
Also Read :
Here, we will provide you with a diet plan for a 1-year baby. Before going to the diet chart, let's get to some of the important things you should keep in mind.
At 1 year, solid foods including healthy snacks will be your child's leading source of energy and nutrition.
You can continue breastfeeding as long as your baby wants until he is at least 2 years old.
Avoid junk foods and cold drinks, it can harm your little one's health.
Here are some of the food options things that you must add to your 1-year-old baby's diet. Doing this will help you to keep your baby healthy.
Also Read: TOP 12 BEST PARENTING TIPS FOR NEW PARENTS
Cereals: Cereals are a classic breakfast for your baby that is easy to chew and digest quickly. Try to give whole-grain cereals to your little one, as much as possible.
Vegetable soup: Vegetable soup can be a good source of nutrients such as vitamins, minerals, and fibre while low in calories and fat. Vegetable soup is a must added thing to the diet plan of a 1-year-old baby. Having all the goodness, vegetable soups are easy to feed.
Dal: You must add dals to the 1-year-old baby's diet plan. Dal contains nutrients like iron, which helps in the baby's growth, and the huge calorie count gives him an immense amount of energy every day.
Cucumber: Since cucumbers Related content: Dal recipes for babies. are 95% water, and they are also wonderful food to help promote hydration. You can give cucumber in a pureed or mashed form.
Also Read: 100-100 UNIQUE AND MEANINGFUL NAME IDEAS FOR BABY BOYS AND BABY GIRLS
Soya chunks: Soya chunks are said to be good for babies' health being a good source of protein and helping them to grow. Add soya chunks to the diet plan of your 1-year-old baby. Your baby will love the texture of soya chunks and will eat them happily.
DIET PLAN FOR 1-YEAR-OLD BABY
| | | | | | |
| --- | --- | --- | --- | --- | --- |
| DAY | BREAKFAST | MID-MORNING | LUNCH | EVENING SNACK | DINNER |
| MONDAY | Carrot paratha | Omelette | Curd rice | Fruit custard | Vegetable soup |
| TUESDAY | Sprouted moong dal chilla | Watermelon | Vegetable and chapati | Paneer slices | Porridge |
| WEDNESDAY | Apple kheer | Vegetable soup | Khichdi | Multigrain chilla | Curd rice |
| THURSDAY | Suji halwa | Cucumber | Chapati with dal | Banana (sliced or mashed) | Paneer paratha |
| FRIDAY | Dalia | Carrot smoothie | Rava Idli | Paneer slices | Corn soup |
| SATURDAY | Besan chilla | Boiled egg | Curd rice | Vegetable soup | Suji halwa |
| SUNDAY | Vegetable Upma | Banana or some orange slices | Dal and rice | Boiled potatoes | Vegetable soup |
Follow the above chart to make your 1-year-old baby healthy and to make him grow in the right manner. We here at Star of Baby take care of your baby, and we work hard to win our customer's hearts. We create the safest products which are safe for babies. With our diaper range, we take the lead in taking care of kids. From kids' diapers to kids' scooters and kids' story books, breastfeeding Pumps, and baby monitor we provide all the stuff that parents need for their children at each step. Visit Star of Baby to know more about our products and discount offers.
Comment