BREAST PUMPS: ELECTRIC V/S MANUAL PUMPS | BY STAR OF BABY
Oct 15,2022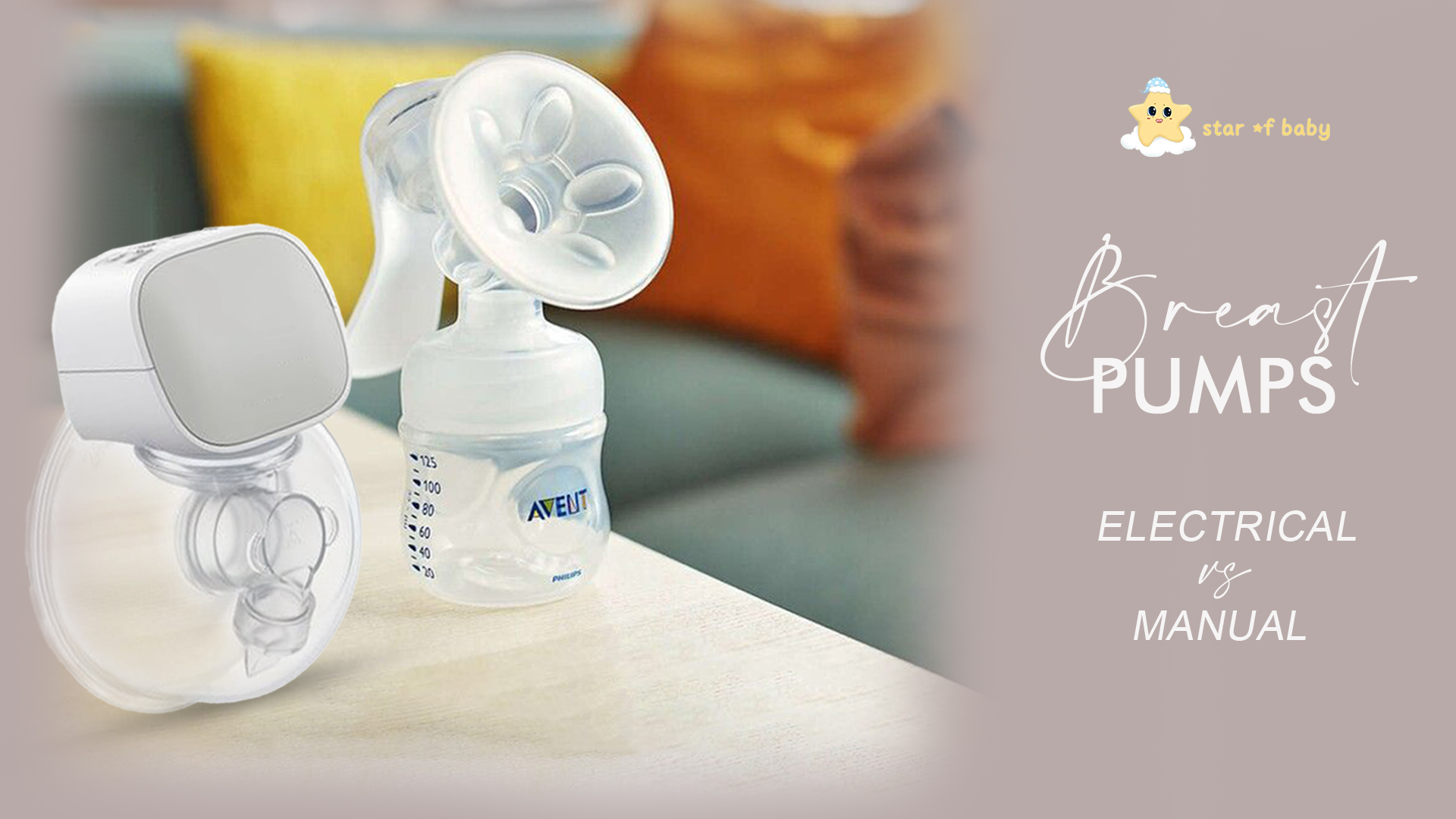 By Star of Baby
What is a breastfeeding pump?
A breastfeeding pump is a tool that extracts breast milk that can be stored and fed to the baby through a bottle. Breast pumps help to maintain and increase the breast milk supply. Gives relief from engorged breasts and plugged milk ducts. Breastfeeding pumps pull out the flat or inverted nipples that help a nursing baby to latch on more comfortably.
Breast pumps are helpful for working ladies when they are away from their babies, someone else or the baby's father can feed the baby with stored breast milk.
5 HEALTHY AND REFRESHING JUICES DURING PREGNANCY
Two common types of breast pumps: Manual and electric
Manual and electric breast pumps are two common types of breast pumps.
Electric breast pumps:
Electric breast pumps are the best options for those moms who are active and need to go to work soon. Electric breast pumps work with electricity. These breast pumps are faster than manual breast pumps. Electric breast pumps come with many features comparatively. However, these pumps are a bit costly but they are worth it! Some electric breast pumps make sound but in today's time, they also have a mute or silent option.
Advantages and disadvantages of electric breast pumps.
Advantages:
Easy to use
Comes with multifunction
Faster than other pumps
Can be rented
Offers an extensive range of variety
Related content: Guide to using breast pumps.
Disadvantages:
Costlier than other pumps
Makes noise: although silent options are available now
Not easy to clean comparatively
Need plug socket to operate
Not convenient to carry it everywhere
Manual breast pumps:
Manual breast pumps are the most common form of breast pump. These pumps don't require electricity. These pumps are easy to set up. Manual breast pumps are cheaper than electric ones but don't suit everyone. These pumps are simple to use and easy to clean. Manual pumps come with a handle that is needed to pump after placing on the breast. Pumping the handle stimulates milk flow.
Advantages and disadvantages of manual breast pumps.
Advantages:
Lightweight
Easy to carry as can fit in your handbag
Doesn't make noise
Comfortable
Simple to use and easy to clean
Budget-friendly
Disadvantages:
Pumping, again and again, can be tiring
Works slower than electric breast pumps
No inbuilt functions
It is difficult to get a regular pumping rhythm with it
Related content: Tips to use breast pumps correctly.
THINGS TO CONSIDER BEFORE BUYING BREAST PUMPS:
Every mom has different needs Hence, choosing the right breast pump for you and your baby is very crucial. You can choose to have manual or electric breast pumps. Here is a guide that explains things to consider before buying a breast pump that suits your needs.
Frequency
Always think about the frequency of use, if you are going to use the breast pump regularly and frequently then you need to purchase an electric breast pump, it will work quickly without making you tired. On the other hand, if you need to pump occasionally then you should go with a manual breast pump. It is cheaper and can be carried anywhere.
Breast shield size
Different breast pumps come in different sizes of breast shields to cover the needs of every mom. So, you need to know the size that can fit you. Make sure that the flange leaves some space around your mammilla, it will be comfortable and will provide the optimal milk flow.
Also read: Breastfeeding benefits for mom and baby.
Cost
Always think about your budget before you go to buy a breast pump. Manual breast pumps are cheaper but don't offer any functions also these pumps work slowly. While electric breast pumps are multifunctional and work fast but their prices are higher than manual breast pumps. Always buy a branded breast pump that comes under your budget.
Comment