BABY GIRL'S UNIQUE NAME TIPS AND IDEAS STARTING WITH P | BY STAR OF BABY
Sep 24,2022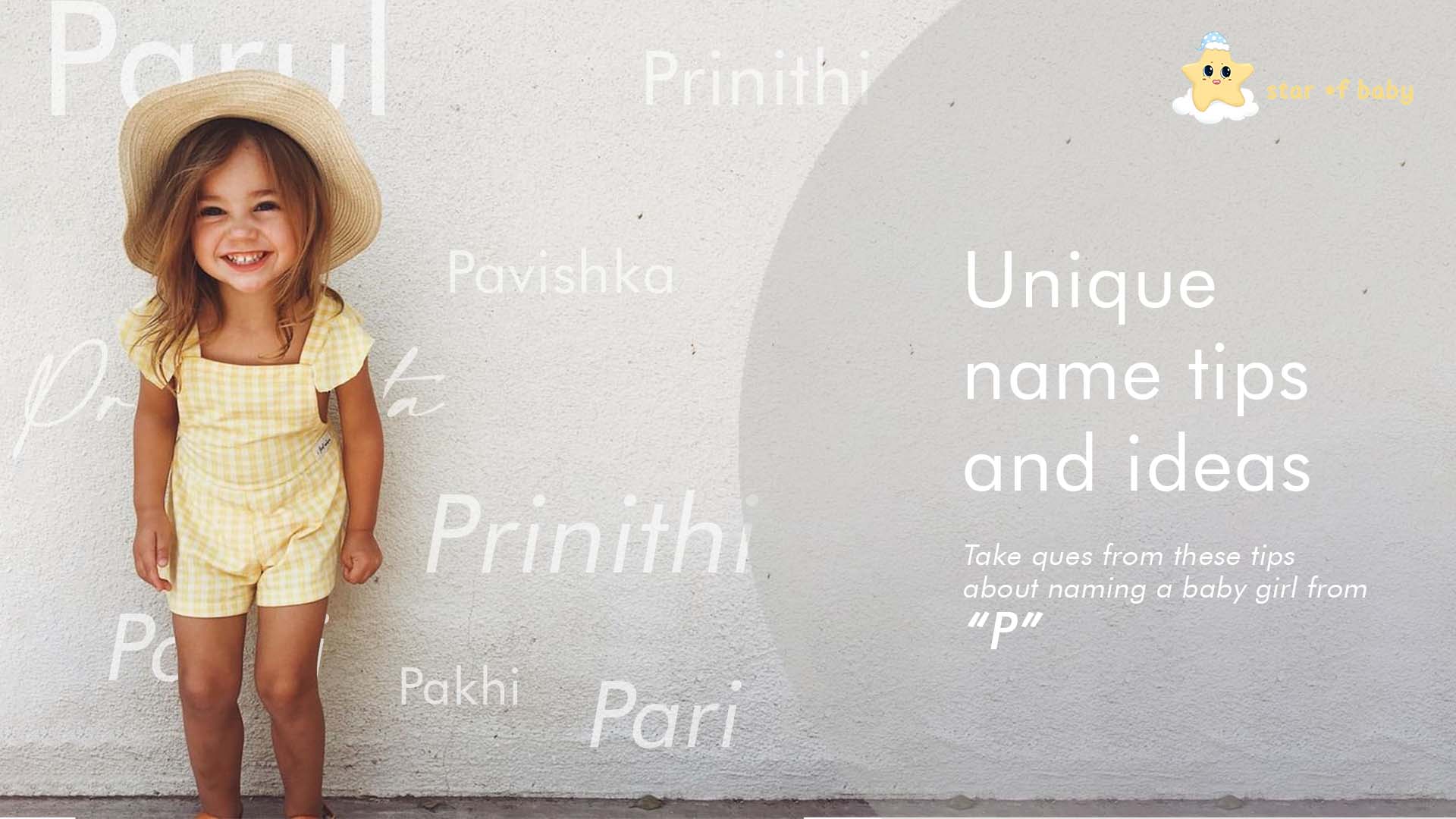 By Star of Baby
Are you confused about naming your new born baby girl? Take ques from these tips about naming a baby girl.
Naming a baby is a tad task. Every parent wants a unique name for their baby. A name has a beautiful meaning. A name that defines a baby's importance in their parent's life. Star of is here to help you with tips and suggestions for baby girl names starting with P.
Things to keep in mind before naming a new born baby:
Royalty can be seen:
Choosing a name that reflects royalty is a trend and a good option. People are choosing the names of ancient kings and queens for their babies. This kind of unique name attracts people a lot. You can use this tip to find a name for your baby boy. Harshvardhan, Karanveer, Rudransh, and Shivraj are some examples.
Think about the future also:
While keeping the name of your newborn baby, always consider the future of the baby, he will be grown into an adult soon. So never choose a name that will be a reason to laugh for others and your child will be teased by his/her name. The name should be unique, not strange!!
Don't keep a name that resembles any particular brand or place:
Never choose any specific brand or a place name for your baby. It will be an awkward situation for your baby to handle when he grows. And he/she would not like their name as he would not like to say that her name is Nirma.
Related blog: Popular names for Hindu baby girls.
Best to keep it short and sweet:
Try to choose a unique name that is simple to pronounce. Never select a tongue-twister kind of name for your baby. Just keep it simple and sweet.
Avoid unisex names:
Never choose a unique name that can be used for both girls and boys. A child should not have such a name by which there will be confusion about whether it is a girl or a boy. You should name your baby which indicates his/her gender.
Think about the meaning of the name:
Before choosing a name for your baby, make a quick search about the meaning of the name. Always choose a name that has a beautiful and correct meaning. Because sometimes the meaning of some unique names can be funny. So always check the meaning of the name.
Also read unique name ideas for baby boys starting with K.
Baby girl's unique and meaningful name ideas starting with P:
Comment